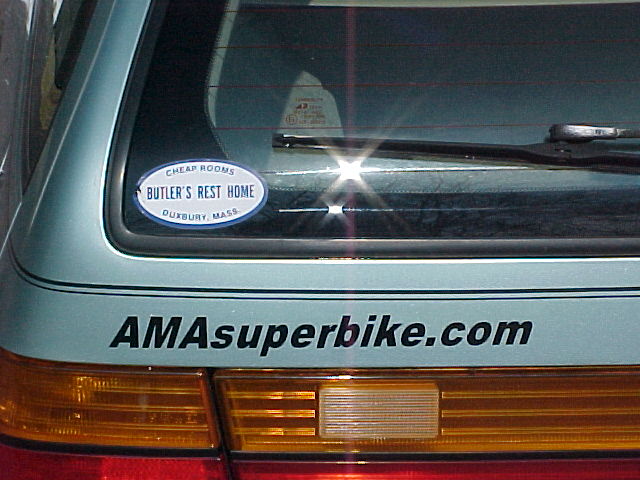 My Favorite Links
Superbike Planet
National and World Championship Motorcycle Roadracing
Edited by Dean Adams
Roadracing World
Grassroots, National and World Championship Motorcycle Roadracing
Edited by John Ulrich
WERA BBS
The Most Entertaining Forum on the Internet!
Loudon Roadracing Series Website
Get Your Loudon Imformation Here. Use the Link To Sign Onto the NEAR List
More Of My Favorite Links
Dunbar Euro-Sports/FB4 Racing Exotic Two-Wheeled Goodies For Sale!
Wally Gator's Website Hangin' Out At The Sea Dunes
Harvey's Fun Page His Favorite Videos And Pics.
Mohammed Saeed al-Sahaf The Iraqi Minister Of Information Has His Own Fan Site!
The Landover Baptist Church Unsaved Not Welcome. Surfin' The Net With Jesus.
USCRA Website Vintage Motorcycle And Sidecar Racing In New Hampshire
Pinky's Pizza Parlor Check Out The WebCam (We're Watching For You, Becki!)
The Truth About NASCAR God Doesn't Give A Shit About NASCAR!
The View Askewniverse Featuring Jay And Silent Bob's Secret Stash. Get Your Buddy Christs Here!